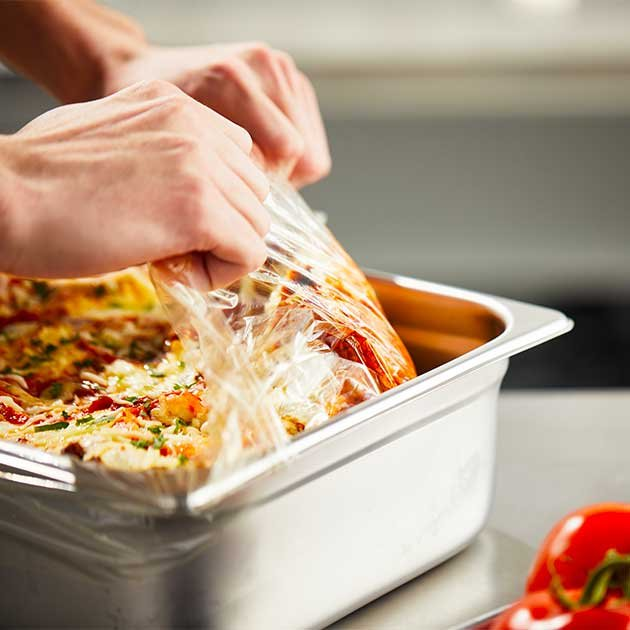 Food prep is a standard and critical component to the success of any restaurant. With so many things to do and limited time, restaurants are always looking for ways to increase productivity and reduce labor costs. Learn more about how PanSaver's professional tools can help restaurants and caterers streamline their daily food prep. Keep reading to find out!
What are the benefits of using PanSaver products?
Running a successful restaurant requires streamlined processes that help staff handle the peak demand times and diners' expectations. PanSaver's professional solutions allow kitchens to optimize their time and work more efficiently during food prepping, from reducing clean-up time and minimizing the hassle of day-to-day operations.
1. Make the Most of Walk-In Storage Space
Kitchen staff can easily stack and store food during meal prep to reduce clutter and save time on organization. Shrink-Tight Pan Covers offer a shrinkable seal that can fit any container and limit spillovers or messes, safeguarding the integrity of dishes and saving kitchen staff the hassle of cleaning up accidents. Whether in a busy restaurant or a crowded catering space, ovenable pan covers are the must-have tool for any kitchen looking to increase kitchen organization, swiftly transport meals, and improve food quality.
2. Eliminate Scrubbing Time from the Wash Cycle
Is your staff tired of relentlessly scrubbing off food from pans after every use? PanSaver's high-temperature nylon pan liners allow you to cut clean-up time in half for a speedier and more efficient clean-up process.  Food doesn't stick or burn onto the pan's surface, so your staff can just lift and dispose of the liner. This can improve your productivity (and morale!), so your staff can focus on other important tasks during food preparation.  Pan liners also help to preserve the integrity of your pans' surface area by reducing the wear and tear that comes from daily use to extend the longevity of your pans.
3.  Save Time by Cooking in a Bag
PanSaver Oven Bags offer kitchen staff a versatile way to prepare and store food during meal prep without the mess. From steaming fresh veggies to roasting meats, freezing leftovers, and slow-cooking stews or chilis, your kitchen can safely prepare food using a wide range of conventional cooking methods without having to dirty several pans.
4. Quickly and (hygienically) brew beverages
Say goodbye to cleaning and sanitizing urns and coolers after every use. With PanSavers' SAFTEA® urn liners, restaurants can start brewing a new batch of tea without going to the sink. Liners take less than a minute to swap out, reducing labor costs and the unnecessary hassle associated with timely cleaning procedures. Additionally, liners can prevent harmful bacteria and containments from leaking into drinks while ensuring a consistent and superior taste for all teas and in-house brewed beverages.
5. Eliminate the Need to Wash Cloth Piping Bags
Piping bags are essential to creating those delicate finishing touches, but cloth bags can be a headache to clean.  With PipinQ piping bags, pastry chefs can create beautiful pastries without needing to deal with the mess. PipinQ piping bags offer the same flexible, firm-grip feel as cotton piping bags but can be filled and refilled throughout the day, providing fantastic results with minimal hand fatigue.
Conclusion
At PanSaver, we offer a comprehensive range of kitchen solutions to help restaurants increase efficiency, improve food quality, and cut costs. From optimizing storage to preserving the freshness of prepped produce and minimizing clean-up time, our products are designed to maximize efficiency and reduce the hassle associated with cumbersome and ineffective procedures. If you're interested in investing in high-quality tools to assist with the process, browse our line of innovative products to see how they can help.