Hygienic, value-added piping bags
The handy tool that offers a fantastic value addition to the end product...PipinQ™ Bags! Crucial for the master's signature on his/ her work. Can be filled and refilled the whole day through, and above all remains strong and reliable. It fits so snugly in the hand that it can be gripped firmly and still facilitates the visual finishing of the product. Irrespective of whether the filling is hot or cold, light or thick, PipinQ™ offers specific advantages for various fields of application.
Disposable PipinQ™ bags save the user time and offer considerable cost savings since the cleaning of cotton piping bags is eliminated. And it is demonstrably less damaging to the environment.
Features & Benefits:
A disposable bag with the feeling of cotton!
Add signature style to products
Saves time and labor – no cleaning bags
Refillable
Strong and reliable
Options available for cold or hot fillings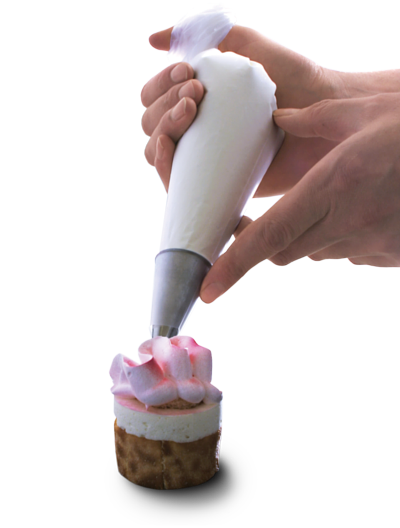 Comfort Line - for light and/or cold fillings
These represent the top-of-the-line segment with the feel and comfort of classic cotton piping bags in a disposable bag. They are extremely flexible with a firm-grip multi-layer film that ensures the professional can always achieve clean, precise results even after hours of repetitive actions, with minimal hand fatigue. The master knows that the smallest mistake can cause irreparable damage. We offer these as a disposable yet efficient and effective solution for every professional.
Available in Comfort Clear or Comfort Green.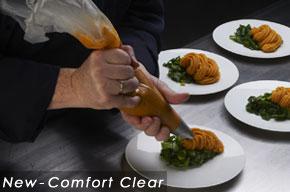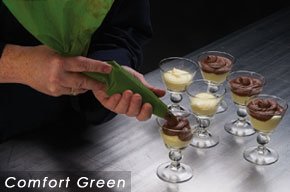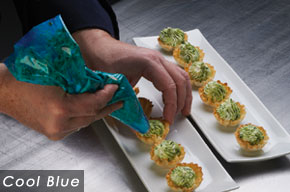 Cool Blue - for light and/or cold fillings
With cold and light fillings, reach for Cool Blue. The ingredient can be precisely applied to obtain a beautiful, aesthetically pleasing end-result, down to the finest detail. Whipped cream or mousse, tarts or desserts will earn a gold star within seconds!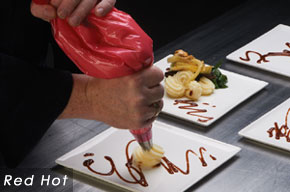 Red Hot - for thick and/or hot fillings
Specially suited for working with thick and hot fillings. The professional has to process the product quickly and precisely and therefore needs to have a good grip, stability and strength. Red Hot combines these three characteristics. And thanks to its bright red color, it stands out among other piping bags.