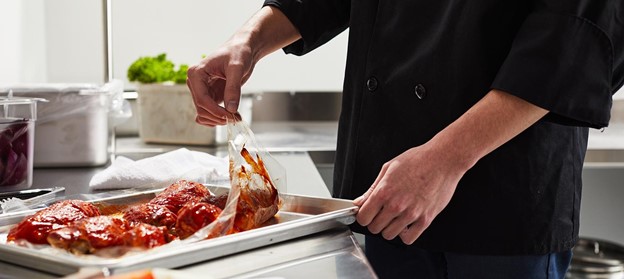 As a food service provider, you understand how important it is to find ways to improve the efficiency of your kitchen while also cutting back on costs. One way you can make a significant impact is by using PanSaver products. These products are designed to streamline the cooking process and reduce the amount of time and labor required to prepare meals. In this blog post, we'll explore the benefits of using PanSaver products and why they're an excellent investment for any food service provider.
A safe and efficient kitchen with PanSaver's Cook Chill system
Safely, efficiently, and easily manage your food production with PanSaver's Cook Chill system! This innovative system offers numerous benefits, including consistent quality from bulk food preparation, portion control through the use of Cook Chill bags, improved food safety by quickly cooling products, better inventory control, and easy reheating and serving. Whether you're a restaurant chain, commissary, or independent restaurant, our Cook Chill system provides a safe and economical alternative to traditional cook-to-serve methods. With this system, you can prepare and store food in portion-controlled packaging, using only what you need and safely storing the rest. PanSaver® Cook Chill products also help increase menu options, lower labor costs, reduce product waste, improve quality and consistency, and minimize instances of being out of stock.
"...I can't tell you how much the PanSaver® Cook Chill program has done for my kitchen. More important than anything, it greatly contributes to my products being higher quality. The higher quality is a result of faster cooling and faster heating of food. The kitchen is easier to operate and I'm saving money too. That is a pretty darn good combination and only becomes more important as the economy makes things tougher on restaurants."
- PAT, KITCHEN MANAGER, MI
Back-to-School with Pan Liners
PanSaver Pan Liners are the ultimate solution for cooking convenience, especially as school food service professionals are experiencing labor shortages. With these oven-safe liners, clean-up becomes quick and easy saving you time and effort in the kitchen. Not only that, but these liners also improve the quality of your food by preventing moisture loss. Plus, you'll enjoy a higher food yield as your dishes won't stick to the surface. With Contour-Fit® technology, your food won't get lost in the corners of the liner. Most importantly, these liners ensure a safer cooking experience by eliminating the chance of surface contamination. And the benefits don't stop there – you'll also save water and reduce operating costs. Perfect for food preparation, cooking, and holding, these liners are a game-changer. Don't miss out on the opportunity to make your cooking experience more efficient and enjoyable.
"We started using PanSaver® PanCovers at our schools a few years ago. Besides the advantage of keeping spills and mess to a minimum while we're transporting food from one building to another, PanCovers also keeps the food hot. They're a lifesaver for us, and the staff loves them!"
- JANELLE B., ASST CN SUPERVISOR, OH
Pan Covers - For your food on the go!
With PanSaver Pan Covers, you can easily stack, store, and transport food without any hassle. These covers shrink tightly to the top of pans, creating a tight seal that prevents spillovers and messes in the oven. Not only do they provide practical functionality, but they also give your food a clean and professional appearance.
The clear and markable film of these covers ensures 100% food visibility, making it easy to identify the contents without the need for labels. The strong and stackable design of the covers makes them perfect for transporting food, while the tight seal helps retain the moisture in the food, keeping it fresh and delicious. Designed with a unique and patented design, PanSaver Pan Covers are versatile and can fit many sizes and shapes of commercial food pans, including full-size hotel pans, bun sheet pans, and round soup pans. Plus, these covers are NSF listed, ensuring their quality and safety.
"Besides being a great tool to easily transport our braised meats without mess, we find that PanSaver® PanCovers actually save us money – both in food cost and labor. We use costly wines and broths to braise, and the tight PanCovers seal minimizes evaporation. Plus, we wrap around 50 pans per week, and PanCovers has reduced our labor cost for that task by 25% compared to using foil and cling wrap."
- ANGELO G., EXECUTIVE CHEF, PHILADELPHIA, PA