If your business uses commercial food pans for food preparation, cooking, or serving , PanSaver® Pan Liners take the mess out of the cooking or storing process, delivering easy-clean pans and food that retains moisture and quality. Ovenable (400°F/204°C) PanSaver® Oven Pan Liners are used in food preparation, cooking and holding, to prevent food from "baking-on" and "burning-on" to the pot or pan surface. PanSaver® can also be used for cold food storage. Just apply the correct pan liner size to the appropriate pan. PanSaver® Pan Liners are generously cut to afford complete coverage of the food contact areas of the pot or pan. Our new Contour-Fit® assures a perfectly sized pan liner that keeps food from getting lost in the corners.
Step-by-Step Instructions on How To Use PanSaver Pan Liners:
Place PanSaver® pan liner in pan.  Fold the excess material over the outer edge of the pan.  This prevents the PanSaver® material from falling into the pan.
Place food in the pan and on top of the PanSaver® Pan Liner.
Bake, cook on a flat-top, roast, microwave, steam, or use in a convection oven.
Food can be served in the pan liner, or transferred to a different pan.  After service, discard leftover food or transfer to a clean PanSaver® pan liner for storage and re-service the next day.
Remove and dispose of the used pan liner.  Sanitize the pan before next use sanitized.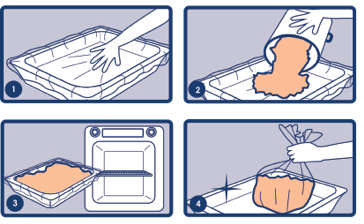 How To Use PanSaver Steam Table Pan Liners:
Line your steam table pans with the appropriate size Scrub Saver® liner.
Fill lined pans with prepared food. If transporting food, fold excess material over top of food and secure.
When ready to serve, open liner bag and fold the excess material over the sides of the steam table pan.
Securely place pan in the steam table and begin serving.